Just a few weeks ago, I had the pleasure of attending the RISE Professionals Leadership Summit and Awards Gala in Fort Lauderdale, FL.
RISE, which stands for "Rising Insurance Star Executives," is a membership group focused on leadership development for young professionals in the insurance industry. The group offers multiple resources to help young insurance professionals build successful careers including networking, mentorship, training, and most notably, the RISE Summit and Awards Gala.
Photo courtesy of RISE.
This year, I was especially honored to not only attend the event, but to also be recognized during the gala as one of the RISE 35 Under 35 awardees. Thank you to the amazing team at Bindable for nominating me for the award and for supporting me always! I was humbled to be recognized alongside such an impressive group of people!

Photo courtesy of RISE.
Great leadership matters
From the moment the conference started, the agenda was jam-packed with powerful content that highlighted the need to attract talent and create space for young professionals to network, learn, and grow within insurance. Part of doing so is making sure we have good leaders.
During the opening keynote, Susan Rivera, CEO at Tokio Marine HCC, stressed the importance of having leaders who are passionate and love what they do. Afterall, you can't inspire others to be their best selves if you are not showing up as your best self.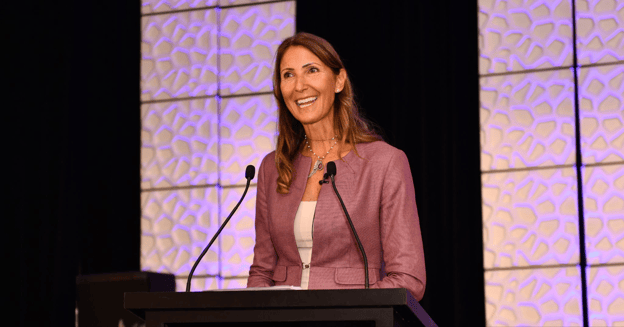 Susan Rivera; photo courtesy of RISE.
Great leaders have a passion for being outstanding in their roles and are always focused on improvement. As Susan said, "It takes 10,000 hours to become an expert in something. Become an expert in your role." If your team sees you doing everything you can to be better, they'll be inspired to be better versions of themselves too.
Words of inspiration
Another great leader I met during the "speed mentoring" portion of the conference was Dan Ducommun, President & CEO of MC Consultants.
"Communication, cooperation, mutual respect, and trust" – Dan happened to see these words while making his way through an airport more than 20 years ago. They impacted him so much that he has a framed copy of them written out in his office still today.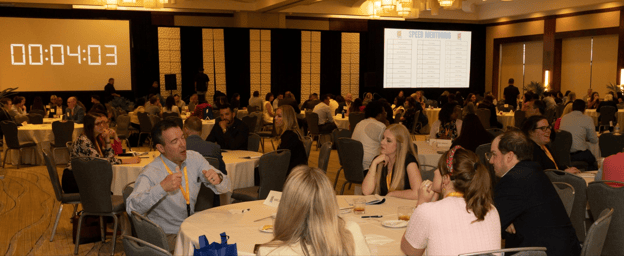 Photo courtesy of RISE.
Dan shared that as a leader, he believes in establishing teams and organizations with a focus on equality, pride, and ownership. People are a company's biggest assets and ultimately, people want to work where they are treated fairly, valued, respected and hopefully have some fun along the way. In order to attract and retain young talent, we need to remember to be larger than just a job and show more value to our employees.
Making insurance more inclusive
One of the best parts of the conference was getting to look around the room and see it was not your typical insurance conference. The diversity in the room could be seen and felt. Appropriately, Diversity, Equity and Inclusion (DEI) was a theme that ran throughout the conference.
Many people agreed that the industry as a whole has progressed over the years, but still has room for growth. What's clear is that organizations that embrace diverse and inclusive teams are stronger because of their ability to solve problems more creatively and efficiently by considering different perspectives.

Photo courtesy of RISE.
Be authentic. Be you. Be real. I heard these sentiments in one way or another throughout the summit. There is no "norm" to insurance roles anymore. Don't be afraid to show who you truly are. As long as you keep showing up as yourself and continue to work hard, people will respect you for it. Being authentic to yourself and encouraging others to be authentic too nurtures an inclusive culture where employees feel a sense of belonging and pride.
Opportunity awaits in insurance
Maybe it is just me and all the other insurance nerds at the RISE Summit (I say this in the most loving way possible!), but one thing we all agreed on is that insurance is fascinating! Interestingly enough though, most people at the event, myself included, seemed to end up in insurance "by accident." Insurance was never a career I considered, however, here I am and I love it!
And yet, Frank Baron, President, Specialty Property & Casualty at The Hanover, reminded the group there are half a million vacant positions in the insurance industry today. Why? It's likely due to the perception that a career in insurance is boring or because of the negative attitudes people tend to have towards big businesses like insurance.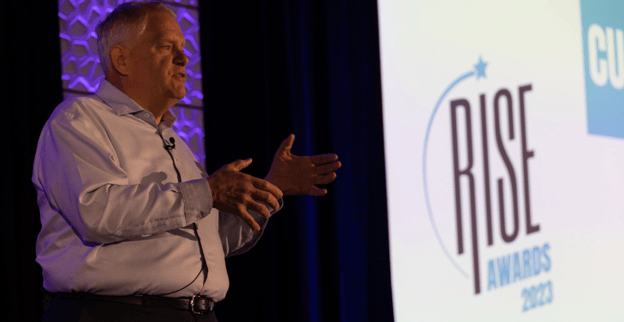 Frank Baron; photo courtesy of RISE.
In order to attract younger generations into insurance, we need to do a better job of highlighting our purpose-driven work and the countless meaningful opportunities insurance can offer to someone embarking on their professional career. Regardless of the type of role or function you're in - whether it be on the "traditional" side of insurance like underwriting and claims, or on the emerging side of InsurTech - there are numerous meaningful career paths in insurance.
Plus, looking ahead, the opportunity for career growth within insurance is huge. Lisa Corless, President & CEO at AF Group, shocked the group when she noted during her gala keynote speech that by 2035, 50% of the existing insurance workforce will have retired, leaving plenty of leadership and executive roles open.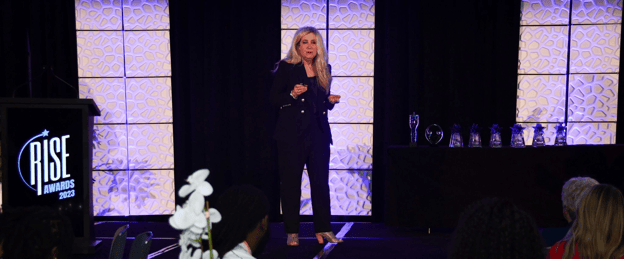 Lisa Corless; photo courtesy of RISE.
But as they say, you don't know what you don't know – unless we collectively as an industry do a better job of promoting insurance as a rewarding and opportunity-filled career, we risk losing out on the battle for talent in the years to come.
Exciting times ahead
As our Bindable CEO, Bill Suneson always says, "We're in the business of helping people." No matter what role you play in the industry or where you are in your career, those of us in insurance are lucky to be working together in support of such a noble cause. It's important that we continue to recognize this in each other, engrain it in our workplaces, and pass it on to future insurance professionals.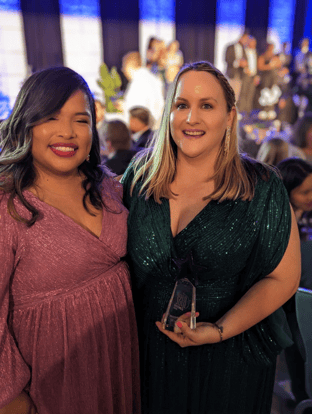 Bindable's Nancy Galbadon (L) and Rachel Presant (R) during the RISE Awards Gala.
Featuring dynamic speakers, a variety of robust content, representation from all areas of insurance, and some of the friendliest people you'll ever meet, the RISE Summit and Awards Gala delivered. If this conference is any indication of what the future of insurance holds, then I am very excited to be a part of it!
Interested in career opportunities in insurance? Check out Bindable's Career Page to learn more!