Last month, I had the opportunity to attend the 2022 Rising Insurance Star Executives (RISE) Leadership Summit and Award Gala. The room was filled with leaders and mentors who are paving the way for the next generation of insurance professionals. I gained a wealth of knowledge about the various skills one needs to be an effective leader. And, humble brag, I was grateful and honored to be named a Rising Star alongside an impressive group of other young professionals in the space during the event's awards ceremony!
Photo courtesy of RISE.
Recognizing and harnessing the power we have to positively influence our work environments, teams, and even our own ways of thinking and communicating was a consistent theme throughout the presentations. Here are my key takeaways from the summit.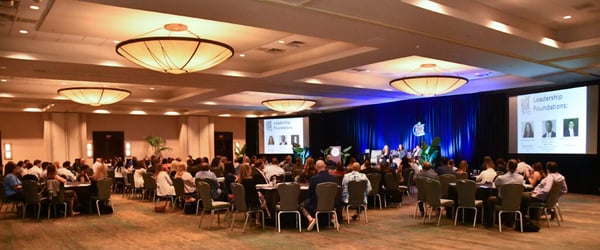 Photo courtesy of RISE.
Be a coffee bean, not a carrot (or an egg)
In her keynote address, vice president of training at the Jon Gordon Companies, Julie Nee, shared an anecdote about reframing the way we perceive and approach difficult situations. When dropped into boiling water, a carrot turns soft. An egg turns hard. But a coffee bean steeps, transforming the water around it. Each of these items faced the same challenge - boiling water - but they all reacted in different ways.
Nee encouraged us to ask ourselves: when I face adversity, how do I respond? Do I go in strong and unrelenting, like the carrot, but come out wilted and lose my strength? Do I go in malleable and delicate, like the egg, but come out hardened and stiff? Or do I, like the coffee bean, find strength in the challenge and come out better, having changed the situation around me for the better?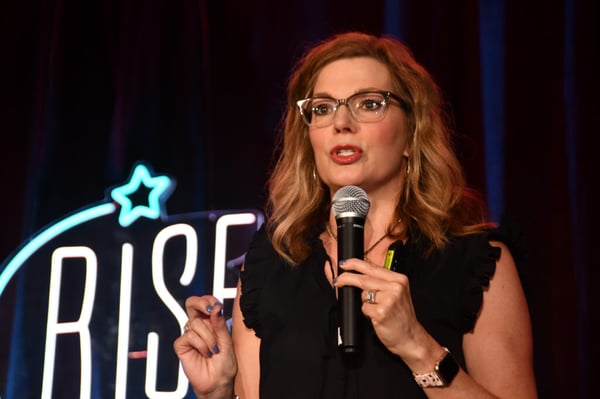 Julie Nee; photo courtesy of RISE.
Tough situations can and will change you, but you can't crumble under the pressure or close yourself off. A leader's reaction to adversity matters; like the coffee bean, your attitude seeps into those around you. You have the power to transform a situation from negative to positive with your attitude - so use it wisely.
Everyone needs encouragement
How do you know if someone needs a little extra encouragement? That's easy - check to see if they're breathing! All of us require some positive reinforcement, but we also must walk this line carefully - too much accountability and no love will burn out your team and dissolve their trust. On the flip side, too much love and no accountability will not help your team grow or evolve to better themselves. Try to find a happy medium.
To keep your team motivated, senior vice president of Claims and Legal at CNA Insurance, Beth Tansey, recommends making sure you include the "why" behind the "what" - meaning, don't just ask your team to do something, give them a purpose behind your reasoning and ultimately their work. This transparency reinforces that you're all working towards the same mission, and that daily tasks are in service of a larger, collective goal.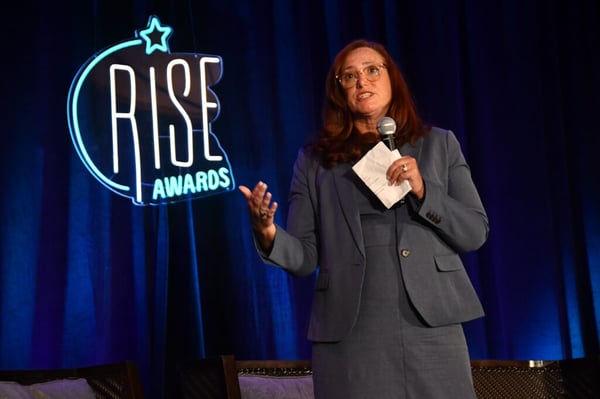 Beth Tansey; photo courtesy of RISE.
The difference between a flower and a weed is judgment
In her leadership workshop, Julie Aquino, COO at Xendoo, provided tips for leaders and team members to improve their communication skills. When we communicate, we put our beliefs and values on display. By making sure you're aware of where both you and your listener are coming from, you can greatly influence what is communicated and interpreted.
Perspective is everything. Aquino recommended changing your "have to's" to "get to's" - even this simple shift in the language you use to describe tasks can often elevate challenges to opportunities. You have the ability to make weeds into flowers - it just requires training yourself, and those around you - to see the possibility for growth when presented with an obstacle.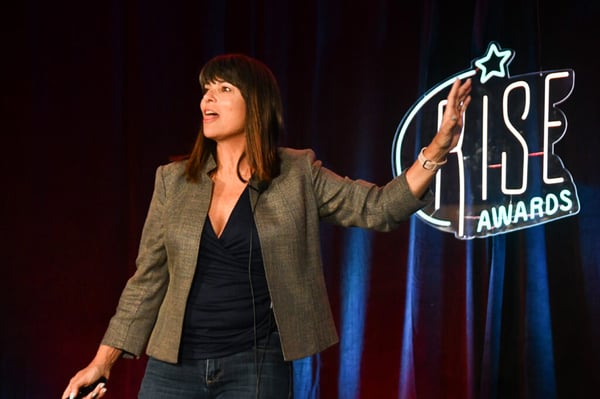 Julie Aquino; photo courtesy of RISE.
Inspiration for the future
As many who were in attendance I'm sure would agree, one of the most moving and motivating speeches was delivered during the awards gala and dinner. Mike Hessling, CEO of Gallagher Bassett North America, delivered a keynote before the awards ceremony began, in which he shared the importance of having the right people around you. Reflecting on his own career in the insurance industry, Hessling stressed how every interaction, no matter how big or small, counts. In a room full of driven professionals, he encouraged us to be an example of what makes our industry so great and inspire others to want to become a part of it. As leaders, we must embrace the opportunity we have to make a positive impact on our teams, organizations, and more broadly, the world.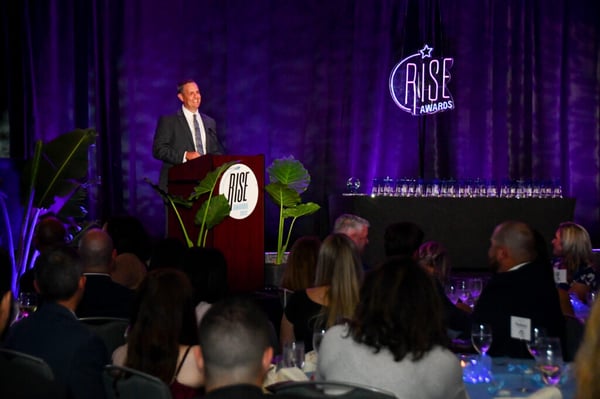 Mike Hessling; photo courtesy of RISE.
The fun didn't stop in Florida
Fortuitously, my colleague and I had the pleasure of sitting next to Tim Roberts of Everest Insurance for much of the day. Tim was named a finalist for RISE Mentor of the Year, having been recognized as an outstanding mentor who has made a difference for the next generation of insurance professionals. I'm excited to have Tim join me on an upcoming episode of our podcast, UNBIND with Bindable, where we'll talk about our experience at RISE, mentorship, and career development. Make sure to keep an eye out for that!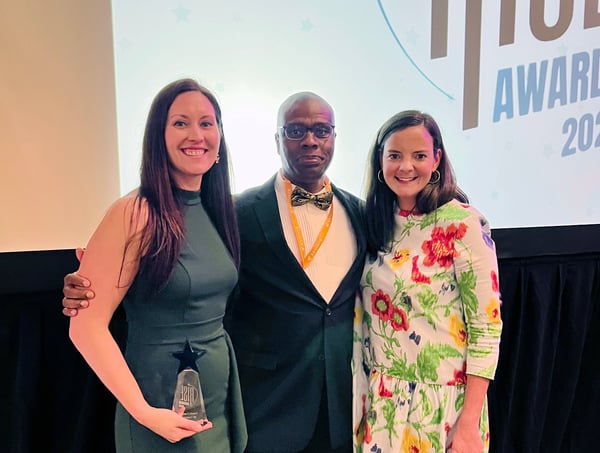 Bindable's Cassie Larson (L) and Mary Clare Riordan (R) with Tim Roberts of Everest Insurance.
An incredible experience
Attending the 2022 RISE Summit & Awards was truly an unforgettable experience. Thank you to the organizers for bringing together so many experts to share their valuable wisdom with future leaders. It was an honor to be recognized alongside so many other impressive people! I came away from this experience fully realizing how rewarding a career in insurance can be — and if the young people and mentors I met at RISE are any indicator, the future of the industry is incredibly bright.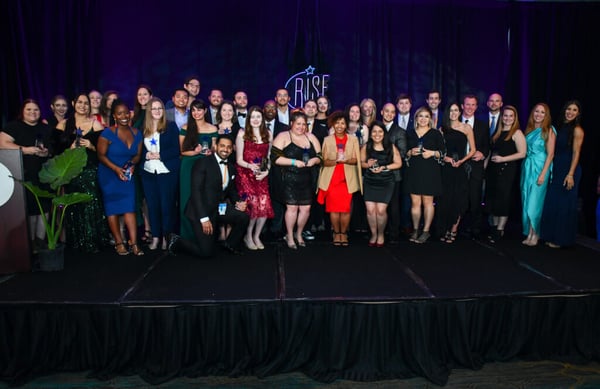 2022 RISE recipients; photo courtesy of RISE.

Interested in career opportunities in insurance? Check out Bindable's careers page to learn more!