After a few years away myself, I was excited to head back to InsureTech Connect (ITC) in Las Vegas last month along with some fellow Bindable team members. Without a doubt, this year's event was one of the biggest and most enthusiastic groups of insurance leaders and innovators I've been a part of. There was a lot to learn and talk about, especially when it came to product innovation.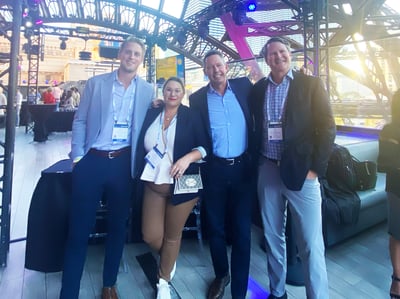 Bindable team members at ITC 2022
Attending key industry events like ITC is crucial to Bindable's mission of continuous improvement. I was there to gain insights into and better understand broader trends that we can (and will) apply to our overall product strategy. Having our team in Las Vegas for the event ensures that we are attuned to the needs of our partners and thinking ahead to prepare ourselves and our technology for what's needed next for future success.
Rethinking risk management
As expected, discussions around risk management products were prevalent at ITC. Particularly, I noticed the increased use of business intelligence (BI) to personalize risk management. Leveraging BI, insurers can efficiently gather and analyze data, and generate reports that help them make informed decisions about risks in real-time, or update their underwriting and services to help insureds mitigate risks going forward. As an alternative distribution partner, Bindable sees extended uses for the application of BI in that it enables us to better understand customer intent and help us match the best mix of products to the customer.
New kids on the block
Regardless of industry, competition and costs for customer acquisition and loyalty continue to rise. As such, offering insurance as part of a relevant shopping journey provides a great opportunity for those organizations even outside of insurance to generate new revenue while deepening relationships with their customers. In response to this, there was a lot of focus at ITC around agent-supported digital distribution for "insurance adjacent" companies entering our space.
But as we all know, starting an agency and selling insurance is not easy. That's why our Insurance-as-a-Service (IaaS) offering is built to enable organizations, regardless of vertical, to enjoy the commercial outcome of insurance without the technical complexities. We work with a variety of consumer-facing brands to quickly launch market-ready digital agency solutions that provide access to multiple leading auto and home carriers, as well as ancillary products including bind-online offerings. Plus, as our partners using our IaaS solution grow with us, they have the option to transition to our Enterprise model once they are ready to power their own agencies with their own carrier appointments.
Technology's impact
I am always so impressed by how companies are using technology in new and innovative ways to improve all aspects of insurance. I heard from some really interesting companies at ITC that have been making use of drones, satellites, and geospatial imagery to better understand risks, improve the accuracy of quotes, and help assess damages if and when claims happen.
I'd be remiss to bring up the topic of technology without mentioning artificial intelligence (AI) and machine learning (ML). Talk about AI was everywhere at ITC. So many insurance companies are now offering digital services, processes, and insights built on AI or ML, and are using the data from these efforts to inform everything from underwriting and claim handling to fraud detection and customer experiences. While many of these companies are still at the early stages of product development, insurance companies have the necessary depth of data to help create meaningful products and should make important partnerships with companies building for AI/ML.
Let's get to work!
As with any industry conference, there was a lot to take in over just a few short days at ITC. And while an event of this size and scale can be particularly overwhelming (I was just one of more than 8,000 attendees this year!), this year was particularly engaging.
But even more important than just simply attending an event like this is actually taking the insights and learnings gained and putting them to good use. I'm really looking forward to taking what I heard, saw, and talked about during this year's ITC and integrating it into next year's product roadmap to ensure we continue to support our valued partners with the best alternative distribution solutions on the market.
Interested in learning how Bindable can support your alternative distribution needs?